Mollie Stone's Markets
Recipes
http://www.molliestones.com/Recipes/Detail/7593/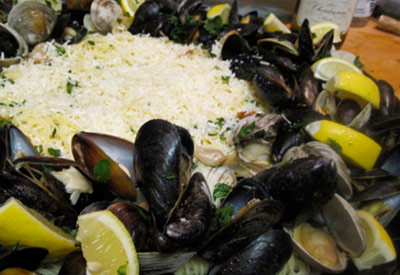 Ben's Mussels with Ginger and Roasted Garlic
A perfect dish for entertaining! Serve with pasta or crusty French bread to soak up the sauce.



Yield: 4 to 6 servings
Directions:
Preheat oven to 375 degrees F

On parchment paper lined foil, drizzle the heads of garlic with olive oil. Wrap tightly and roast for 1 hour. When cool enough to handle, remove papery skin from the roasted garlic cloves and set aside.

In a large pot, melt 2 tablespoons butter and add the ginger and roasted garlic cloves. Cook 1 to 2 minutes, then add wine and salt to taste.

Bring to a boil and add the mussels. Reduce heat, cover pot and cook undisturbed until the shells have opened (about 8 minutes). Stir mussels and remove with a slotted spoon to a warm bowl. Discard any unopened shells.

Reduce broth by half and whisk the remaining 3 tablespoons butter into the broth.

Place the cooked angel hair pasta on a large platter. Surround with the mussels and pour sauce over mussels and pasta. Garnish with chopped parsley and lemon wedges, and serve with a green salad.
Please note that some ingredients and brands may not be available in every store.
Mollie Stone's Markets
Recipes
http://www.molliestones.com/Recipes/Detail/7593/