It's your free ride home.
We understand the dilemma of shopping in the city and trying to decide whether or not you should drive to the store. Sure, you can park in our lot if you drive, but we all know you'll do it at the price of surrendering your parking place near your home. Yet, if you don't drive, you're stuck with lugging home grocery bags, probably up a hill.
So, to make your world better, we bring you the Mollie Bus at two of our San Francisco locations - Pacific Heights and Castro. Here's how it works:
You catch it in front of the store.
Your receipt is your bus ticket. Just get on with your bag, and you're on your way.
It takes you to your doorstep. Just tell the driver where you live.
Please remember, it's not a taxi. It takes you home, but it won't pick you up.
The Mollie Bus services the neighborhoods around our Pacific Heights and Castro store locations. It does not travel outside the San Francisco city limits.
Please contact each store directly for details, minimum purchase requirement and hours of operation.
San Francisco - Pacific Heights
2435 California Street
San Francisco, CA 94115
T: 415-567-4902
San Francisco - Castro
4201 18th Street
San Francisco, CA 94114
T: 415-255-8959
We hope you'll use the Mollie Bus often - have a nice trip.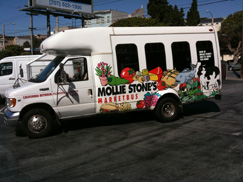 If our buses caught your attention, we're not surprised. But getting you to notice us wasn't the real reason we have Mollie Buses running around. They're there because they make life easier for local shoppers. They might even keep you healthier and save you a little gas.
Testimonial
Dear Mollie Stone's:

I would like to commend you for the very important shuttle service you provide to the customers of your San Francisco - Pacific Heights store. I am disabled, and do not drive, and your shuttle allows me to shop at your wonderful store and get home with my packages. I know that this service is appreciated, and used by other elderly, limited mobility, and non-driving customers.

Your driver is especially considerate and helpful, as well as being very informative. He provides excellent service, and is an excellent representative for your store.

Thank you very much again,
Paul Z.
San Francisco