Mollie Stone's Markets
Recipes
https://www.molliestones.com/Recipes/Detail/7213/Dave%60s_Mom_and_Dad%60s_Barbeque_Chicken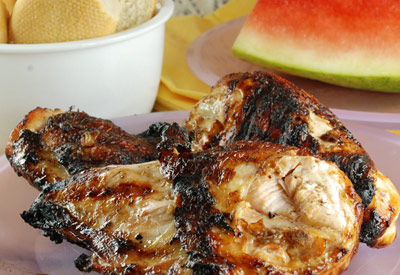 Dave's Mom and Dad's Barbeque Chicken
Customer Rating:
4 Ratings 0 Comments
Yield: 4 servings
Ingredients
1

whole chicken cut in pieces

Marinade:

1/2
cup

dry sauterne*

1/2
cup

soy sauce

1/4
cup

vegetable oil

1/4
cup

chopped onion

1
teaspoon

dry mustard
Directions:
Mix together all marinade ingredients and let stand for 2 to 4 hours at room temperature.

Prepare grill and barbeque the chicken over medium heat skin side down for 20 minutes, basting often. Turn chicken and continue to cook for 15 to 20 minutes more and continue basting.
*Sauterne:
A dry or sweet California wine. It is named after Sauternes, but deliberately spelled without the "s" at the end and is not the same as a French Sauternes. Sauternes is an elegant sweet French wine from the Western region of France. Although most North American growers use Sauternes to refer to the California wine, most use Sauterne on their labels. Avoid any wine labeled Cooking Sauterne, instead use the same Sauterne in the recipe as you would sip from a glass.
Please note that some ingredients and brands may not be available in every store.
Mollie Stone's Markets
Recipes
https://www.molliestones.com/Recipes/Detail/7213/Dave%60s_Mom_and_Dad%60s_Barbeque_Chicken