Mollie Stone's Markets
Recipes
https://www.molliestones.com/Recipes/Detail/7216/Giselle%60s_Yummy_Pork_Tenderloin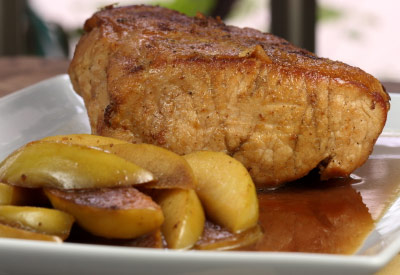 Giselle's Yummy Pork Tenderloin
Tender pork tenderloin with a savory apple onion compote. Best served with mashed potatoes and veggie of your choice... ENJOY!

Ingredients
2 to
3 Tablespoons

oil (for braising pork)

2 to
3

pork tenderloins (pick the weight and size to fit your crowd)

2 to
3 Tablespoons

butter

2

medium yellow onions, coarsely chopped

3

medium Fuji apples, peeled and chopped

1/2
cup

beef demi glaze (I recommend the More Than Gourmet brand found on the meat counter)

3/4 to
1 cup

white wine
Directions:
Preheat oven to 350 degrees F.

In a heavy cast iron pan, over medium to high heat, braise pork tenderloins in oil. Remove pork and place to the side.

In the same pan, melt butter over medium heat. Add chopped onions and simmer for three minutes; stir occasionally. Add chopped apples and continue to cook until soft. Make a well in the middle of the pan and add demi glaze and white wine. Stir until well mixed.

Place the braised pork tenderloins in the pan, spooning the onion/apple mixture over the meat. Cover with an ovenproof lid and place in preheated oven for 1 hour. After 30 minutes, turn the pork and stir the onion/apple mixture. Continue to cook uncovered for 20 to 30 minutes.
Please note that some ingredients and brands may not be available in every store.
Mollie Stone's Markets
Recipes
https://www.molliestones.com/Recipes/Detail/7216/Giselle%60s_Yummy_Pork_Tenderloin