Mollie Stone's Markets
Recipes
https://www.molliestones.com/Recipes/Detail/7217/Pita_Pizza_Appetizers_from_Carl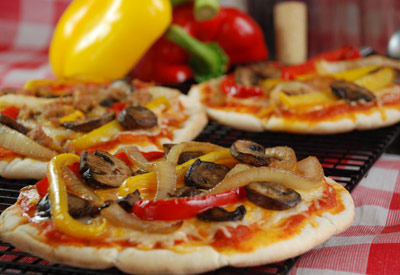 Pita Pizza Appetizers from Carl
This simple recipe allows you to make individual pizza appetizers to your liking very quickly for little cost.
Yield: 6 servings
Ingredients
Cooking spray

1/2

red bell pepper, seeded and cut into strips

1/2

yellow bell pepper, seeded and cut into strips

1

yellow onion cut into strips

1
cup

brown mushrooms, washed and sliced

1
jar

tomato and basil pasta sauce

1
package

(6 count) pita bread

1
cup

shredded part skim mozzarella cheese

1/2
cup

shredded cheddar cheese
Directions:
Spray a non-stick skillet with cooking oil and preheat on medium setting. Add peppers, onion and mushrooms and saute until onions begin to carmelize and turn golden brown. Remove from heat and set aside.

Spread one Tablespoon of pasta sauce on top of each pita round.

Sprinkle 1/4 cup of mozzarella cheese and 1 Tablespoon cheddar cheese over sauce.

Arrange a portion of the vegetables on top of each pita. 

Place pita pizzas on a cookie sheet or aluminum foil and bake for 5 minutes at 400 degrees F in toaster oven or conventional oven until cheese melts.
Variations:
1. For a low fat pizza, use Fat Free Mozzarella or Cheddar, then spray a small amount of cooking spray on cheese to promote a creamier finish.

2. Add a little diced ham or cooked ground sausage of your choice to each pita before baking.
Please note that some ingredients and brands may not be available in every store.
Mollie Stone's Markets
Recipes
https://www.molliestones.com/Recipes/Detail/7217/Pita_Pizza_Appetizers_from_Carl