Mollie Stone's Markets
Recipes
https://www.molliestones.com/Recipes/Detail/7221/Zane%60s_Deviled_Eggs_with_Pickled_Jalapeno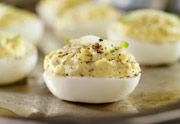 Zane's Deviled Eggs with Pickled Jalapeno
Yield: 12 deviled eggs and 3-4 pints jalapenos
Deviled Eggs:
6
eggs

2
Tablespoons
mayonnaise

1
Tablespoon
spicy brown mustard

1
teaspoon
relish

1
Tablespoon
pickled jalapeno pepper (see recipe below)

Salt to taste

Pepper to taste

Paprika for garnish (optional)

Pickled Jalapenos:
5
cups
commercial 5% vinegar (white or cider)

1
cup
water

4
teaspoons
pickling salt

2
teaspoons
granulated sugar

2
pounds
fresh jalapeno peppers (or yellow banana peppers or pepperoncini)

3 to
6 slices
from a peeled carrot (optional)

1/2
slice
from an onion (optional)

You'll Also Need:
3 to 4
pint size Mason jars
Directions:
Pickled Jalapenos:
Prepare a boiling water bath for canning and keep hot while you prepare the jars of pickled jalapenos.

Make a brine:
Place the vinegar, water, pickling salt, and sugar in a 2- quart non-reactive (stainless or enamel) saucepan or kettle. Bring to a boil over high heat, reduce heat to low, and stir briefly to dissolve the salt and sugar. Cover and keep hot over low heat while you prepare the jalapenos.

Prepare jalapeno mixture:
Wash the jalapenos and slice 1/4-inch thick; discard the stem ends. If using the carrot and onion, place 1 or 2 pieces of each in the mason jars. Tightly pack the jalapeno slices into the sterilized pint jars, but do not crush them. Pour the hot brine over the contents in each jar leaving 1/2- inch space at the top. Seal jars. Place in boiling water bath and process for 10 minutes.

Deviled Eggs:
Place the eggs into a saucepan in a single layer and fill with water to cover the eggs by 1- inch. Cover the saucepan and bring the water to a boil over high heat. Immediately remove pan from the heat and let the eggs stand in the hot water for 15 minutes. Drain.

Cool the eggs under cold running water. Peel once the eggs are cold. Halve the eggs lengthwise and scoop the yolks into a bowl. Set the halved eggs aside and mash the yolks with a fork.

Stir the mayonnaise, mustard, relish, picked jalapeño, salt and pepper into the yolks until well combined. Spoon into a quart-size, resealable plastic bag. Snip a corner off the plastic bag.

Squeeze the yolk mixture into the egg halves, sprinkle each stuffed egg with paprika.
Please note that some ingredients and brands may not be available in every store.
Mollie Stone's Markets
Recipes
https://www.molliestones.com/Recipes/Detail/7221/Zane%60s_Deviled_Eggs_with_Pickled_Jalapeno