Mollie Stone's Markets
Recipes
https://www.molliestones.com/Recipes/Detail/7330/Laz%60s_Knock-Your-Socks-Off_BBQ_Tri-Tip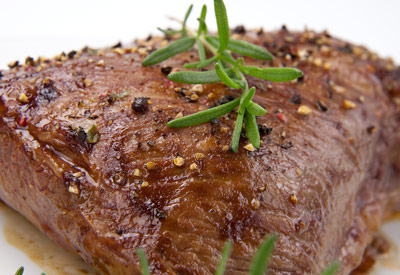 Laz's Knock-Your-Socks-Off BBQ Tri-Tip
Football food on the BBQ to feed the masses! Great for sandwiches.
Yield: Feeds a crowd!
Ingredients
2

(4 to 5 pound) tri-tips, trimmed

1
cup

olive oil

1/2
cup

granulated sugar

1/2
cup

soy sauce

1/2
cup

Worcestershire sauce

1/2
cup

black pepper

1/2
cup

garlic salt

1/2
cup

onion, chopped

1/2
cup

garlic, chopped

1
cup

orange juice

1/2
cup

white wine

1/2
cup

paprika

1/2
cup

crushed red pepper flakes
Directions:
To make the marinade:
Mix all ingredients (except the tri-tips) in a plastic Tupperware-type container with a seal-tight lid. Place the tri-tips on top of the marinade, cover and shake well. Refrigerate overnight turning container once.

Next Day:
Remove the container from the fridge and let tri-tips come to room temperature (about 45 minutes).

Preheat the grill to medium temperature and cook for about 15 minutes on each side or until desired temperature. Remove when done and let rest (tent with aluminum foil) for 10 minutes.

Cut across the grain and enjoy with your favorite side dish or make sandwiches... sourdough baguette is our favorite!
Please note that some ingredients and brands may not be available in every store.
Mollie Stone's Markets
Recipes
https://www.molliestones.com/Recipes/Detail/7330/Laz%60s_Knock-Your-Socks-Off_BBQ_Tri-Tip