Mollie Stone's Markets
Recipes
https://www.molliestones.com/Recipes/Detail/7591/Liz%60s_Berry_Oatmeal_Scones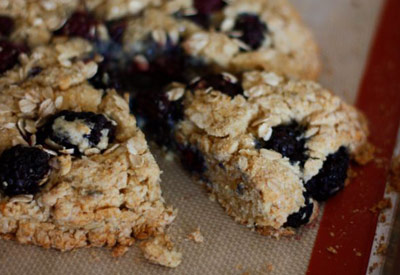 Liz's Berry Oatmeal Scones
Try using blackberries, raspberries, blueberries or a mixture of berries in these fluffy, tender scones.




Yield: 6 servings
Ingredients
1 1/2
cups

all purpose flour

1/4
cup

packed golden brown sugar

2
teaspoons

baking powder

3/4
teaspoon

baking soda

1/4
teaspoon

sea salt

6
Tablespoons

cold unsalted butter

1
cup

cold milk

1/2
teaspoon

vanilla extract

1/2
cup

rolled oats

1
cup

fresh or frozen berries

2
Tablespoons

rolled oats

1
Tablespoon

Turbinado sugar
Directions:
Preheat oven to 350 degrees F. Line a baking sheet with a Silpat or parchment paper.

Combine the flour, brown sugar, baking powder, baking soda and salt in the bowl of a food processor and pulse to combine.

Cut the butter into 1/2- inch cubes and add to mixture in the food processor. Pulse several times until the mixture looks coarse with pea-size butter pieces.

In a large mixing bowl, combine the milk and the vanilla extract.

Add the flour/butter mixture as well as 1/2 cup oats, then stir until just combined.

Add the berries and stir gently to distribute them throughout the dough, which with be thick and sticky.

Transfer the dough to the prepared baking sheet. Pat dough into a large circle about 3/4- inch thick. Garnish the top with 2 tablespoons of oats and Turbinado sugar. Cutting only halfway down through the dough, use a knife or dough cutter to portion the dough into 6 equal "pie slice" shaped pieces.

Bake for 28 to 30 minutes, or until the center of the scones is cooked through and firm to the touch. Enjoy immediately.

If there are leftovers, store in an airtight container and reheat in a toaster oven.
Please note that some ingredients and brands may not be available in every store.
Mollie Stone's Markets
Recipes
https://www.molliestones.com/Recipes/Detail/7591/Liz%60s_Berry_Oatmeal_Scones