Mollie Stone's Markets
Recipes
https://www.molliestones.com/Recipes/Detail/7597/Tequila_Lime_Shrimp_Tacos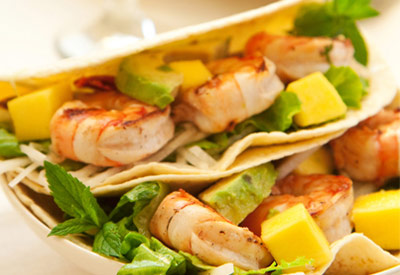 Tequila Lime Shrimp Tacos
A fresh take on seafood tacos made with Mollie's Mango Papaya Salsa.




Yield: 4 servings
1
pound
shrimp, shelled, deveined and cut in half

4
Tablespoons
olive oil

2
ounces
tequila

2
limes, juiced

1
cup
Mollie's Mango Papaya Salsa

1/3
bunch
fresh cilantro, chopped

Crushed red pepper flakes, to taste

8
corn tortillas

2
cups
(8 ounces) shredded Monterey Jack cheese

1
avocado, cubed

Garnish with:
Sour cream

Chopped cilantro

Sliced olives

Red peppers

Guacamole
Directions:
In a shallow pan, heat olive oil and saute the shrimp for 2 to 3 minutes.

Add tequila and the juice of two limes, and continue to cook another few minutes.

Add the salsa and 1/3 bunch chopped cilantro, and season to taste with crushed red pepper. Remove from heat.

Serve corn tortillas filled with shrimp, shredded cheese and avocado.

If desired, garnish tacos with sour cream, additional chopped cilantro, sliced olives, red peppers and guacamole.
Optional: Make a simple quesadilla by melting cheese on one tortilla and topping with another tortilla. Then fill it with the shrimp and garnishes to enjoy taco-style.
Please note that some ingredients and brands may not be available in every store.
Mollie Stone's Markets
Recipes
https://www.molliestones.com/Recipes/Detail/7597/Tequila_Lime_Shrimp_Tacos